Railroad from Sant Feliu de Guíxols to Girona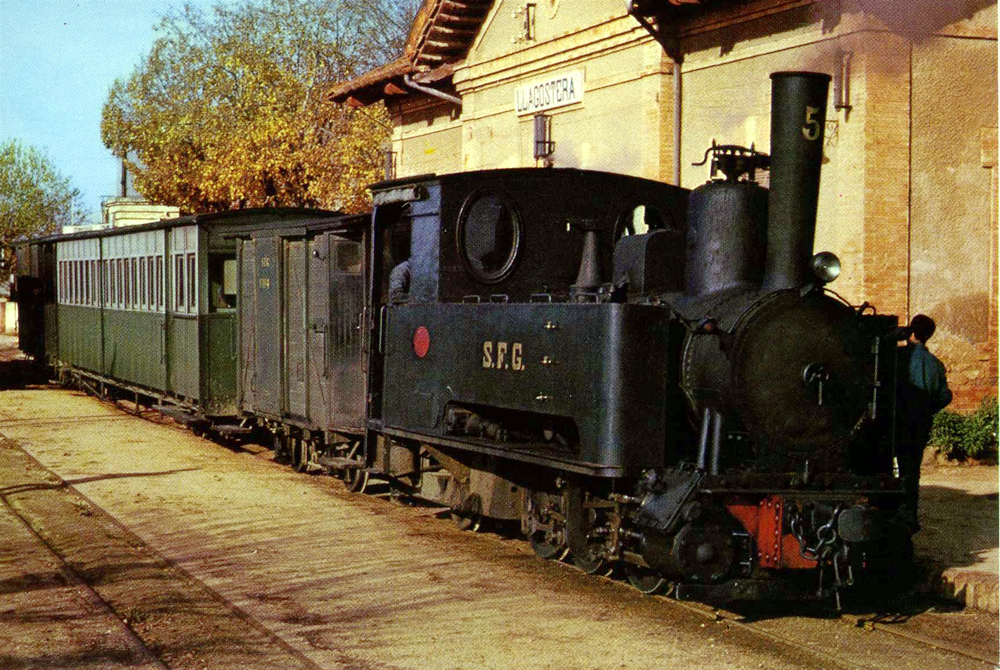 The narrow gauge railway linking Sant Feliu with Girona, opened in 1892 and worked as a line of passengers and freight until 1969. Its constructionwas due more tu the business of Sant Feliu and Baix Empordà, they needed a means to transport their goods, especially manufactured and cork of Llagostera and Cassà coming out of the sea in Sant Feliu or Iberian gauge track in Girona, where it ended the carrilet. Also used to transport goods from the port of Sant Feliu inwards. When starting to take a tourism boom in later renamed the Costa Brava, passengers using the train began to move to La Font Picant, where it spent time at the spa, and the beaches of Sant Pol and Platja d'Aro.
This was the first train that used a narrow track in the peninsula, using the track gauge of 750 mm. Its speed was very limited and life of the whole region surrounding the railroad was the slow pace of it. He lived its golden age in the years from 1918 to the 1929 crisis, but what was killing the Spanish strategic railwaus was the lack of resources to modernize the railway lines so punished. The advent of road transport, especially the car, dropped gradually passenger traffic, reaching historic lows in 1963, which happened to survive the state, and was part of FEVE. To make it compatible with the Olot-Girona railway, track metrics, we studied widen the road to carrilet to make it compatible. Eventually, after several difficulties and lack of foresight, made the carrilet was closed permanently in 1969.
In this final section, some England fan who sensed that could disappear soon steam traction began a journey across Spain photographing the "modus vivendi" otf the lines of the time, and so could attest to her life. This page will be related to the SFG Therefore wa can sway that the legacy of these photograpers is a good historical memory.
Without the invaluable aid of the Association of Friends of the Railroad in the countries of Girona, and its president, Ignasi Griñón could not colletct on this website photographs and contributions from anyone who mitght know the "SFG".
I also make special mention to the Municipal ARchives of Sant Feliu de Guíxols that allowed me to obtain documents and old photographs of the railway.
The purpose of this page is to take a comprehensive information what was the train Sant Feliu-Girona, past and future of the outline in the area.